Why are weddings so damn expensive?
How To Choose A Wedding Dress
Tips To Consider When Choosing A Wedding Dress
Weddings are very important to you as they signify a very crucial stage in life. Weddings are usually joyous events, but the truth is that they are very hectic and cumbersome especially to the planners and the couple getting married. Most couples work their heads off in a bid to make their weddings perfect.
Weddings are events that involve several factors, and one of those factors are the outfit used by the involved people. These involved people consist of the bridal party and the groom party. Naturally designing and deciding on the nature of the outfit to be used is more cumbersome when dealing with the feminine gender compared to the male gender.
The bride's wedding dress is considered to say a lot about your wedding, and you should, therefore, be very careful when choosing the same. Nowadays with the massive industrialization taking place there are numerous types of dresses that also go at different prices. The following tips will help you make the right choice when selecting a wedding dress;

Start The Search Early.
Weddings are occasions that call for prior preparation and your search for a wedding dress should not be an exception. It is very advisable since you get the opportunity to assess several dresses available. This will help you get one of the best dresses around compared to the others. Individuals who started searching for dresses with a limited time span at their disposal tend to choose on dresses that don't represent the best deal.
Price.
Budgeting while planning a wedding is a very crucial element in the overall success of a wedding. You should, therefore, ensure you know the basic price range of the dress you are anticipating to buy. You should also be very careful when allocating a specific amount to the dress so that you do not affect other areas that also need finances.
Consider The Setting Of The Wedding.
Different dresses are designed for the different type of settings and climatic conditions, and it is important that you choose one that goes with the conditions you anticipate. Light fabric and no veil would turn out to be perfect for settings such as islands since they may turn out to be sunny but windy as well. Simple gowns have also been recommended when holding simple outdoor weddings as they blend well.
Seek Advice From Other People.
You should ensure you seek the advice of experienced friends when making such decisions. Such advisors should be able to give the necessary advice on the different types of dresses available so that you can come out with the best one. Such advisors should have sufficient information regarding the types of dresses available. There's a lot of style in  Gold Coast Weddings Directory why not check their website now?
Consider What You Love.
When choosing a wedding dress, you should consider the styles that look good on your body. Dresses come in different shapes and sizes, and you should, therefore, be very careful to choose one that fits well with respect to your body shape and size.
---
What To Look For In A Wedding Reception Venue
What You Should Look for In a Wedding Reception Venue
Your wedding is one of the most magical days of your life, but the reception is often the most memorable part of the day. It's the time during which you get to celebrate your new marriage, surrounded by people you love. It's important that you find the right place to celebrate it in.
When you're trying to choose a wedding reception venue, there are a lot of different things you'll need to consider. Make sure you keep all of these things in mind so that you'll be able to choose a venue that you'll love.
Start Looking Well In Advance
Many of the best venues will be booked up more than a year in advance. That's why it's important to start looking as soon as you know when you'll be getting married. When it comes to planning a wedding, there's no such thing as getting things done too far ahead of time.
Make Sure You Visit Potential Reception Sites
When you're trying to decide on a reception venue, make sure that you don't leave things up to pictures. Instead, you should take the time to visit any venues that you're considering. Make sure that they have ample parking, and make sure that the venue has a good size and layout.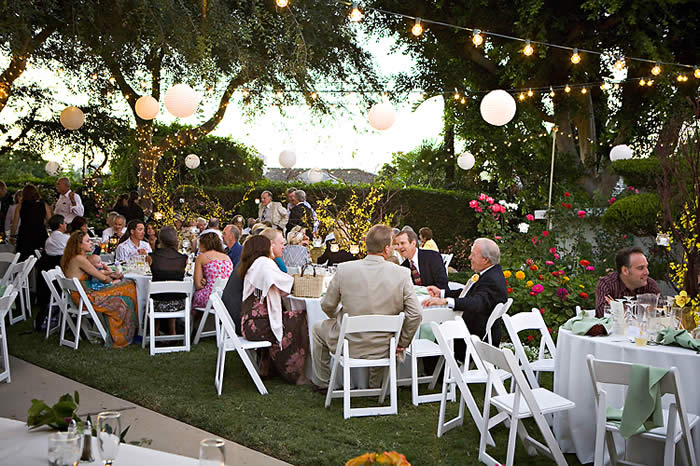 Learn About Restrictions In Advance
Many venues have various restrictions, and you'll want to make sure you're aware of them well before the date of your wedding. Is there a certain time everyone needs to leave by? Does the venue have the right wiring to accommodate your DJ or band? You'll want to make sure that the venue you book is everything that you need it to be.
Get Accurate Prices
Many reception venues price things in different ways, which can make comparing prices a challenge. You'll want to make sure that you have all of the information about their pricing. What do their prices include? Will you be expected to tip the bartender or wait staff? The more you know about their pricing, the easier it will be for you to find the venue that offers the best deals.
Consider Location
A lot of people don't really think about how hard it will be to drive from their wedding venue to their reception venue. Try the drive and see how easy it is to manage. If a reception venue is difficult to find, or if you continually run into a lot of traffic, you may want to consider having your reception somewhere else.
You'll want a reception venue that's beautiful, but you'll also want your venue to be a great place for a party. You want your guests to have a great time celebrating your new marriage with you.
When you select a venue, make sure you take all of these things into consideration. You'll be much happier with your final decision, and you'll be able to find a venue that everyone will be able to have a great time. If you are looking for  a perfect venue, simply visit this website: goldcoastweddings.com and choose the wide array of choices.
---
How To Choose A Wedding Dress
---